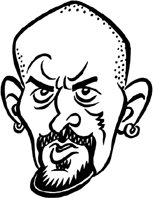 What a week for
la Brujita
, first he
escapes prosecution
in Italy, and now gets a
recall to the Argentine national team
. Sweet Jesus, how does this guy do it? While I think that Juan Sebastion Veron is the equivalent to picking Phil Nevile, he's only been asked to take part in a training camp by team boss Alfio Basile. Whatever the circumstances, Veron is ecstatic.
He sat down with Marcelo Sottile of Argentine daily Ole for a sit-down after getting word of his selection. This is a rough translation of that interview:
How long has it been since you looked at a Argentine selection sheet?
Years. Now, with a new coach, the idea has crept back into my head since everyone starts off with a clean slate. Ever since Basile said that he wanted to build a strong base with local players, it's motivated everybody playing here in Argentina. For that reason, I've been a little anxious, but still looking to put in a solid performance every Sunday.
Why have you come back to the team?
I thank god for the great season I had last year. Winning the championship with Estudiantes [de La Plata] kept me playing at a high level, which made sure that people noticed the form I was in. If it wasn't for that, I'll be honest, it would have been pretty difficult for me to get a recall to the national side. Estudiantes is not the same as playing for Boca [Juniors] or River [Plate], where everything, good or bad, is magnified to a greater extent. I needed a campaign like the last one, contending for the title, to be noticed. It's all just exceeded my expectations.
Is this sweet revenge or just a confirmation of the level you're playing at right now?
Returning to the team, first and foremost, is what's always been expected. It's always been very important for me. It's important to my family, to my
father
, and to my
wife
as well. She's the one who has followed me everywhere, she's logged thousands of miles... I'll always have the memory of my first selection. It's just that after such a long time, well... I was always asked about this, "when will you be back on the team?" Well, here I am. There's nothing like playing for your country.
Have you been selected because you're better than you have been recently?
The level that I'm playing at right now is the same as when I played in Europe the last couple of years. Maybe it's just that when you're playing locally, people pay closer attention, the media talks about you a little more... It's different when you're playing abroad, even though you can turn on the television and see a game from every corner of the world. Returning to the team is a confirmation of the form I currently find myself in, as well as a signal that I still have more to give the national team, which is the most important thing. To put yourself back into the discussion, validate your hard work, and to even change some people's minds...
Did you think you'd never return when Jose [Pekerman] was the coach?
That was clear to me. He talked to most of the veteran players but never talked to me, a clear signal that I wasn't in his plans. And I came to accept that that was the way it was going to be.
Has

Coco

Basile changed the way you see your future?
Although I don't know him because I came into the team after he left [Basile's first stint as coach of Argentina: 1990-04], I see him as a winner. He's proved it with the national team and with the clubs that he's coached. Hey, it's no easy task being the boss at Boca. Now, he's trying to put something new together for the national team. It's very professional how he's going about it, because a player likes to be talked to like an adult, consulted, but also guided. This is very important for the younger players to see.
Is it premature to be thinking about the 2010 World Cup?
For me the important thing is being part of this training camp, and not think beyond that. The coach has his mind set on winning the Copa America, and even though there isn't a final list for that team, being here and part of the equation is very important. And who knows, you might even just get into the side because of someone else. This is something I'm familiar with because I first came into the side under Daniel [Passarella] after [Fernando] Redondo refused to play. [Note: If you recall, Passarella had a policy against his players having long hair. Redondo, refused to cut his
shoulder-length locks
, effectively ending his international career.]
Does that mean that your objective is to make it to the Copa America?
Yes, exactly. I know that I'm not as young as [Fernando] Belluschi, [Mauro] Zarate, or [Jose] Sosa and [Mariano] Pavone... I just have to work hard to make that team, the Copa America is very important. After that, it's up to the coach, his confidence in you, how you're fitness levels are, your motivation... It's obvious that when you are selected to the national team, you have more drive, you feel better, you don't feel as tired between games. If you get injured, you suck it up and go on.
Are you more motivated today than you've been in the past?
I'm playing well and enjoying my soccer, and that's how I want to be. I never resign myself to just playing badly and not worrying about how things turn out. I did that once and I've learned from my mistakes. For that reason, if I'm not up for it, it's best to walk away and let the youngsters fight it out for a spot on the pitch.
Are you referring to the World Cup in Korea and Japan?
Sure. At the end of the day you've got to put in the effort for your teammates. It's for them who you've got to play for. Just being on the national team isn't enough, you have to give it 100%.
What about 2010? You're not closing that door are you?
When you look at the calendar, it's more that three years away. I'm not 21, I'm turning 32 in a couple of days [a week from tomorrow]... I'm not too old, but there's not much left either. I prefer to just enjoy the moment and live in the present, though I hope that the national team extends my career so that I can play until I'm 40. I see [Jose Luis] Calderon, at 36, how he's enjoying the moment, and it motivates me. All the same, you have to be playing at the highest level for the national team. If you aren't cutting it, the coach has 20 million other players to pick from. You're not here because of your career or out of sentiment.
In what position do you see yourself playing with

Coco

?
In the middle of the park, off of the five [defensive midfielder]. Basile has seen me play, he knows what I can bring to the side. It all depends on what he wants. I don't see myself as an attacking midfielder, there are other players with different styles from mine that are probably better suited for the position. But if that's what's asked of me, I'll do it.
Basile seems to have made you leader of the local group of players he's selected. How does that suit you?
I have no problem with it. I'm not a negative person, I've never been that way with any of the teams I've been on. To the contrary actually. You can ask anybody I've played with, I've always led in a positive manner, like with the youngsters at Estudiantes. I don't only see myself as a leader, but also a person with the character to make things right, who says what's on his mind, someone who always thinks about the group rather than the individual. That's the way it's got to be, you'll never be the best of friends with everyone on your team.
Cound you be on a national team with [Juan Pablo] Sorin after your well publicised fight?


Sure, I can play with anybody. The coach is who decides if one or the other, or both, plays. If it happens, then you first talk about it and solve the differences. While you might like for everyone to be buddies, I don't have to be Sorin's friend to play on the national team. I'm not an idiot, I'm not going to risk what's in the best interest of the team because of an issue I have with a teammate. [Note: it got quite
ugly
between the two players during last year's Champions League quarter-finals, when Veron was at Inter and Sorin played for Villarreal.]
What's your relationship like with [Juan] Roman Riquelme?
That's been played up in the press, honestly, there's no problem between the two of us. We have a good relationship, we recently came back from Europe together, talking throughout the whole flight. We later played in a exhibition match together in La Plata. I think very highly of him, he's an important player for Argentina.
Have you talked to [Diego] Simeone about your call up?
Sure, quite a bit actually.
El Cholo
loves talking about the national team, we talk about it all the time. He's been encouraging me throughout, possibly knowing what Basile thoughts where.
What are you going to say to Pavone and Sosa?
I'm going to give them a big hug and congratulate them, they deserve it. This also shows that it was a good decision Pavone made concerning a move to Europe. In my opinion, he's one of the forwards who will play at the Copa America. I see a lot of [Gabriel] Batistuta's qualities in him. Beyond their similar build, he's strong, he can hold up the ball and keep possession, and he's got a powerful shot with either foot. I've been watching him play for a while now and he's just getting better an better. To me it proves that he's a smart guy who has unlimited potential. Furthermore, he and Sosa will now know what comes with being selected for the national team: you're granted more respect when you walk out onto the pitch, you're more recognizable, especially to the fans of other clubs, and internationally, people will start paying attention to you. To tell you the truth, it's something that I've missed...
What else have you missed?
I missed putting on the Argentine jersey, getting together with the team, the relationships you form with guys from other clubs. Putting together a team of locals is going to create a great atmosphere in Argentine soccer. It'll be great for the fans, the championship will be given a boost since every player will know that the possibility will be there to catch the coach's eye.
How do you think the public will react when you play for the national team again?
I don't know...we'll have to see. It doesn't bother me if they whistle when I touch the ball, the opposite actually. It'll make me feel like I'm doing something important. For that reason, I just want to enjoy the moment and dedicate it to the Estudiantes supporters. After that, it's all about winning. Lifting the Copa America trophy can go a long way towards rebuilding some the bridges.
Who, Me? I Didn't Do Anything Wrong
[Soccer Mad In America]
Veron included in Argentina squad for training camp
[Guardian Unlimited]
Juan Sebastian Veron interview
(in Spanish) [Ole]
-ac