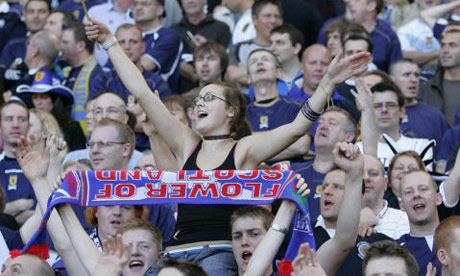 That's the story coming out of The Scottish FA, "any future glamour games will be based on the fact that fans can afford the ticket levels." With eyes toward Argentina's visit to Hampden Park, there have been murmers about how much Scottish fans are willing to pay to see their side play host some of the world's best teams.
Moneyquote:
Scottish soccer executives say that future games with Brazil and other high- profile teams may depend on fans' interest in the Argentina match.

Scottish officials almost canceled the match after baulking at the South American team's pay demands, Banks said. A compromise was found with Scottish fans being charged the same prices as they would be for competitive internationals, higher than for previous exhibition matches. Scottish media reports said Argentina asked for 1 million pounds ($1.59 million) to play.

Diego Maradona's debut on November 19th will be quite telling: a packed house will let us know who'll be visiting Scotland in the years to come.
Scotland Supporters Must Prove Appetite for 'Glamour' Games
[Bloomberg]
-ac